Meet Takayoshi Munemoto, R.Ac, RMT, GCFP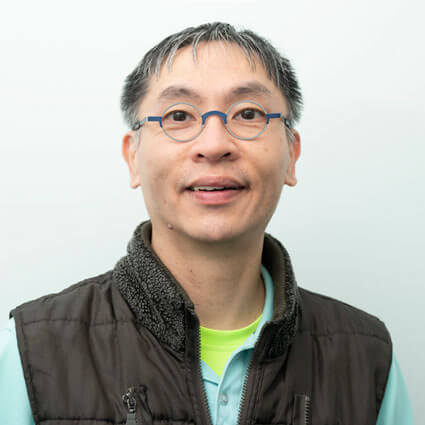 Holistic Manual Therapist
Taka has been practising as a manual therapist since 2005. He specializes in addressing TMJ and vision issues with a strong focus in Cranial Sacral Therapy. His primary objectives are to improve vision, relax the jaw, face, head, and neck, and to calm down the tense nervous system.
From IT to TCM
Before becoming a manual therapist, Taka worked as an IT consultant in Germany. The company sent him to Canada in 2000 but following the 9/11 terroist attacks in the US the company closed its operations. It was then that Taka decided to return to school, but this time he studied massage therapy.
After completing his massage therapy diploma, Taka studied TCM (Traditional Chinese Medicine), as well as Osteopathic Manual Therapy and the Somatic Education of Feldenkrais Method. He is licensed in acupuncture and massage therapy, both.
Taking a Holistic Approach
Homeostasis, self-regulation, and self-healing of the human body are the fundamental principles of natural and holistic medicine and the basis of Taka's practice. He continues to enhance his unique and proven therapeutic approach that has helped many individuals break free from their chronic pain.
Explore Our Services
Providing Education
Taka is so passionate about communicating the benefits of Somatic Education that he offers free courses via Zoom.
I want to help people relax; we can move and think better when we are relaxed."
Taka also likes to educate clients, particularly those in their middle-age and senior years, about the value of maintenance care.
Just like you maintain your car with tune-ups and oil changes, it's important to maintain your body as it wears with age. We can slow down the aging process by taking proactive measures to care for our bodies.
Possessing Global Experience
Born in Tokyo, Taka has lived all around the world. As an onboard Acupuncturist with Holland America Cruises, he had the unique opportunity to travel the globe. He also spent four years in Italy studying the Feldenkrais Method. Taka loves to learn, travel, and help others.
He continues his worldwide explorations and training so he can deepen his practice and ensure his clients and patients get the profound results they want for their health.
Schedule an Appointment
Contact us today to book an appointment with Taka! Private insurance companies in Canada cover massage therapy and acupuncture.

Takayoshi Munemoto | (416) 551-4486